Defluoridation of water reduces the concentration of fluoride in the water, to make it safe for human consumption. Various water treatments have the ability to reduce fluoride concentration including most other anions, and or cations in the water, are not considered to be defluoridation methods. General demineralising methods such as distillation, electrodialysis and resin de-anionisation reverse osmosis, which are able to remove fluoride are not , considered as defluoridation methods. A method that only remove's fluoride without any addition or reduction of other parameters is not yet discovered. The term "fluoride removal" is inprecise. Defluoridationis used to characterise methods that reduce the fluoride ion specifically, without major other changes to the quality of the treated water. The process of Defluoridation to reduce or remove floride is of singnificant importance to many nations, regions, and idividuals concerned with excess fluoride.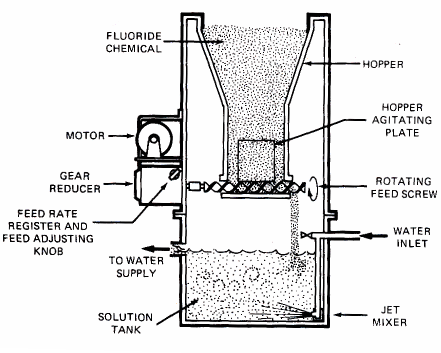 Defluoridation of water differs water treatments normally piped:
Flluoride does not deteriorate the piped water quality technically or oganoleptically. It is usually only required for the portion of the water that is used for drinking and cooking.
Defluoridation of large quantities of water, is environmentally unsound because of the accumulation of correspondingly large quantities of toxic sludge would create a more severe challenge to manage.
Most large cities and towns are historically built in sites that use good water sources and do not need defluoridation..
Industrialised countries easily prospect and transporting low fluoride water thereby reducing the need for defluoridation.
Defluoridation is undertaken to prevent or to mitigate endemic fluorosis.

Defluoridation is most often required in rural areas in developing countries. Many defluoridation approaches have been launched, without unbiased field proof of success. The process or the technical set-up that may work in one context of socio-economic and environmental situation may be innefective in another. Local availability and acceptability of the required materials, fluoride contamination level and water quality are major factors to be considered when selecting the process and the design that minimises the capital and running costs.

Defluoridation technology can be simple, affordable, reliable and effective in various situations.
Domestic: e.g. in the kitchen where piped water may likely or may not even be available.
Community: e.g. a village or a market where the defluoridator is supplied with water through a pipe or a hand or power pump.
Institutional: e.g. in schools/ working places where piped water may be available. The defluoridator should be protected from theft or misuse.

Defluoridation Process:

Sorption
A sorption process is normally designed in a plug flow filter column, including a medium that has a certain capacity of absorption, adsorption or ion exchange of the fluoride. This process requires recharge or regeneration of the medium upon saturation. Numerous media are known to have defluoridation properties, cf. Table.
Naturally apable to sorb fluoride

Magnesite

Stilbite

Goethite

Bentonite

Serpentine

Acidic clay

Fuller's earth

Apophyllite

Clinoptilolite

Kaolinite

Verimiculite

Alkalkine soil

Kaolinitic clay

Diatomaceous earth

Natrolite

Gibbsite

Halloysite

Zeolite(s)

Aiken soil

China clay

Ando soil
Note: Bone char and activated alumina are worth mentioning (based on capacity, limitations and availabilty). Similar set-ups can be utilised in the activated alumina process which is preferred in strictly vegetarian societies that consider the use of (cow) bone char as unnaceptible.